For Hospitals
Improve waitlist times and patient flow through customised templates which could highlight a number of categories important to your hospital including urgency, complexity, age and discipline.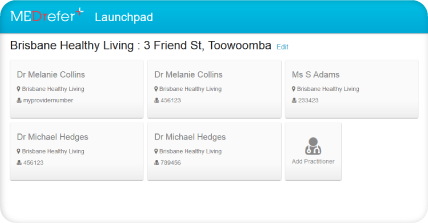 Manage Multiple Users at Multiple Sites in one place
Right Now
Easily manage all specialists personal information, referrals and data in one primary location or click on individual tabs to look at details for one specialist.
Advertise Yourself
Would you like to be introduced to GPs? Are you endorsing a number of practitioners working within you? A variety of advertising opportunities can be arranged to assist you which can then be delivered to segmented practitioners in our Australia-wide directory.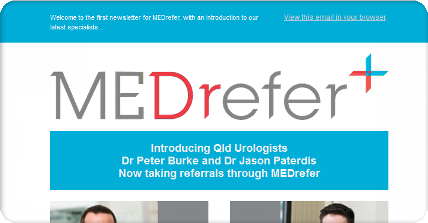 Customised program management and reporting
MEDrefer Solutions offer a wide range of options for customisation of the dashboard, referral process and corresponding reporting options to suit your specific needs.
Use your own templates
Need specific information to be part of the referral? Customise your preferred templates for GPs to complete when referring a patient.